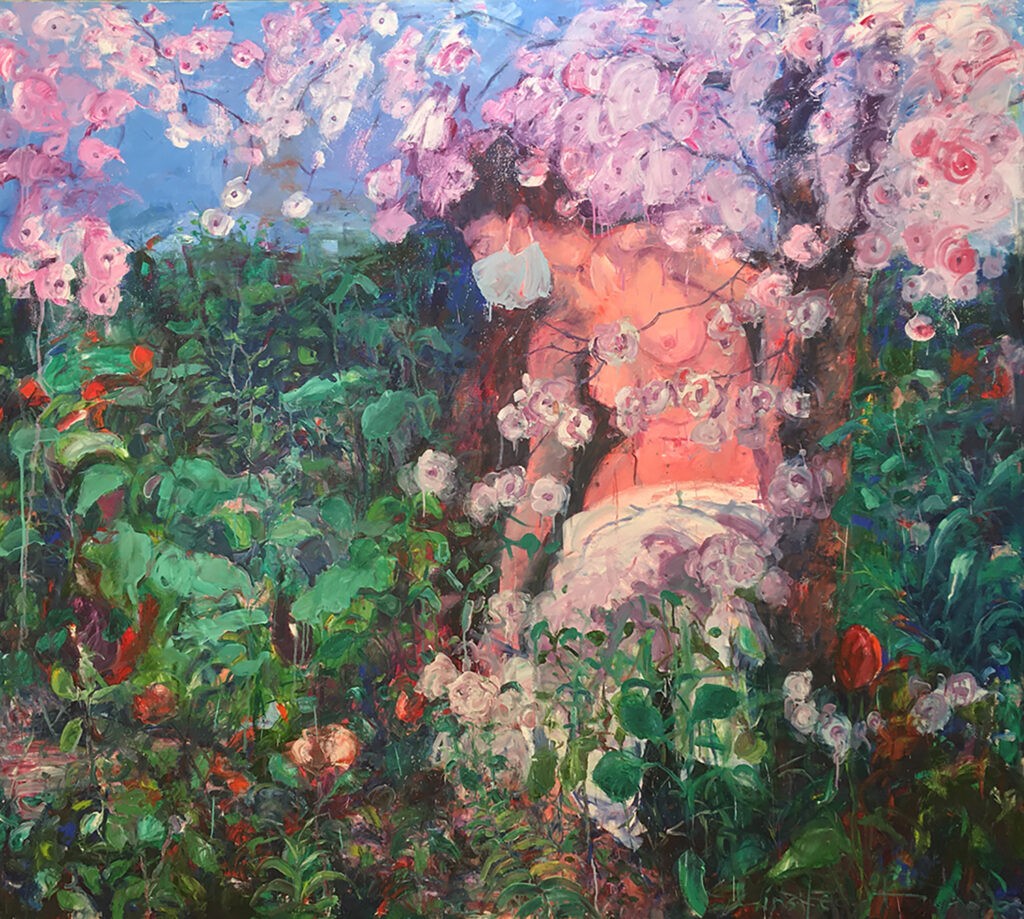 THE GREAT PAUSE
TIME OF NEED
Reflections on Locked Down Days
A Beginning
It's difficult to pinpoint a beginning because there is no beginning. This is an evolution. But for the sake of a beginning, let's start with lungwort.
Mum digs up a plant called pulmonaria. A beautiful little plant, with delicate pink and blue flowers and leaves mottled with flecks of silver. It's also known colloquially as soldiers and sailors. Now, pulmonaria is a plant that I've had on my mind. I know that it grows in the garden at home and I would like to plant it in my garden here in Rusthurst Lane.
When I discover that pulmonaria is also commonly known as "lungwort", I am disconcerted. Apparently, lungwort has medicinal properties and has been used for centuries to treat people with respiratory ailments. And now, in this time of the coronavirus pandemic, Mum gives me lungwort plants. This must be an auspicious sign!
I plant the lungwort in my garden superstitiously hoping that it will ward off this 21st century plague, and bring good health.
A New Soundtrack
I notice the quiet. A profound hush.
No aeroplanes; no Gatwick flight path, no traffic roar. It's absolute bliss. I switch off the radio. My new soundtrack is nature: birdsong, buzzing bees and the odd chuckle of a child in a nearby garden. These natural sounds define this new lockdown land in which we are living. It's all very idyllic really; Although in another reality, it's not so idyllic. Thousands of people are suffering with the virus and there are hundreds dying every day. The economy has all but shut down. Enormous emergency hospitals have been constructed in days. Slogans drum out a sinister beat: Stay at home! Protect the NHS! Save lives! But all that is happening in a different world somewhere far from here.
For me, lockdown brings peace of mind: huge, palpable relief. No more suffocating daily slog and my anxieties have lessened. A burden is lifted, and I am liberated.
A Blank Canvas
I must admit I am enjoying the enforced confinement. Time takes on a new and different dimension. No alarm clock to force me awake. I need the rest and soon my body clock starts to regulate itself. I'm beginning to revive. Stress dissipates. My body recalibrates and it finds its natural rhythm. A rhythm which always existed, but which has lain dormant whilst the demands of modern life jostle and bray for attention sucking energy and vitality out of my very core.
I am in my element!
But it takes me a good three weeks to properly settle; to shake the restlessness and find an equilibrium. I have a need to get my chores done. I must accomplish daily goals I set for myself. I have to achieve something positive today. Each day. Something worthwhile. Gradually, I work through my to-do list. I enjoy the tasks I set myself: clearing a cupboard, filing photos, hanging pictures – but I have a compulsion to reach a point where there is nothing left to do. It's a cathartic, purging experience, gently releasing tension and bringing clarity of thought and a lightness of spirit. I want to whitewash the chores, the mundane, and to create a brand new, clear space: a blank canvas. A blank canvas will bring me ultimate freedom – creativity, inspiration and contentment. I can begin to sketch out a new way of living. My palate has every colour, shade, tone and hue.
A Garden Project
I am itching to give my garden some attention. It's my lockdown project.
Gardening is creative, and it's therapeutic: chopping, pruning, weeding, digging. Especially when accompanied with birdsong, blue sky and sunshine.
I'm so glad I went to the garden centre in the nick of time – the day before lockdown. Thank goodness! I equip myself with some essentials: compost, seeds, gloves and long-handled secateurs. These are my best purchase in a long time. They provide both a great upper body and mental health workout.
I hack away for hours, happily. Slicing through rosebushes and cruddy, dried winter stalks. I relish the sting and tingle of thorns and brambles ripping at my skin. Clods of earth ruining manicured nails and roughing up my hands and it gives me a feeling of well-being.
I ponder over where to reposition chimney pots taken down from the roof of the house and which I'll re-home as a feature in the garden.
The closure of the garden centres has not been a big issue. Mum digs up an abundance of plants for me: phlox, sedum, foxgloves, saxifrage. I have a vision of billowing, blousy borders, cottage garden style worthy of a Chelsea show garden. I will see how my garden grows.
Plants procured from my childhood garden, dug up and passed on to me to plant and nurture in turn are now taking root in my own adult garden, a sanctuary. There's a connectivity there. A sense of grounding and belonging. Establishing new roots. It feels solid, and somehow it feels safe.
My neighbours tell me I should sit and relax in my garden more; that I've created a charming space; that I should stop working sometimes and sit and enjoy it. So I sit there and watch and listen. I witness the garden unfurling before my very eyes.
An Awakening
A full pink moon rises huge and bright in the east. I stand in the garden, with my neighbours, watching it bloom. For the first time, I am aware of my bearings.
This is an awakening. A discovery of my habitat: both in terms of my natural surroundings and of my fellow inhabitants. I sit in the garden and experience a sense of belonging in this place.
I am loving where I live. It's quirky. The prehistoric rocks give this small corner of the world personality.
I start to see a bigger picture. The full extent of which, was blurred and fuzzy before.
Out on my walks, I discover places in such close proximity which I've never seen until now.
Google Maps no longer navigate the way I traverse the countryside. Instead, Ordinance Survey Maps have taken over that role, and I find myself in a different world. I am a woodland sprite, tracking through meadows, pastures, paddocks – a network of timeworn trails interlinked. Streams – rippling, trickling, meandering, though the wood, connected by bridges and branches.
The detail becomes clear, and it's rather like my vision has clicked into a magic eye picture and a 3-dimensional image reveals itself in all its clarity.
And I'm in another world – a fairy-tale world. These are ancient, ancient woodlands. Layers upon layers of history, and I feel part of it.
These are the pathways that now define the way I roam. I no longer need streets, or thoroughfares, or hard-core concrete pavements. The gnarled, root-hewn paths are now my tracks.
I join up footpaths; create my own map.
On one of my rambles, I happen upon a Georgian farmhouse. The outbuildings and sheds are dilapidated and in a state of disrepair. Cows lap from a muddy pool – and I have the sense that perhaps I have travelled back in time; This pastoral scene, straight from the pages of a Jane Austen novel is defining the new reality I am tangibly experiencing.
An Unfurling
I'm watching spring unfurl. Bright gold-dipped celandines and swathes of white wood anemones are followed by bluebell waves mirroring the blue skies and crested with vibrant green beech leaves. Next come frothy, wild garlic drifts scenting the air.
It's overwhelmingly stunning!
But there is a conceit: growth and grounding; a simultaneous reaching up and yet rooting down; a dichotomy of divergent forces pulling in opposing directions, energising and enlightening, and yet working in harmony to create space to breathe.
As spring unfurls, I'm unfurling too.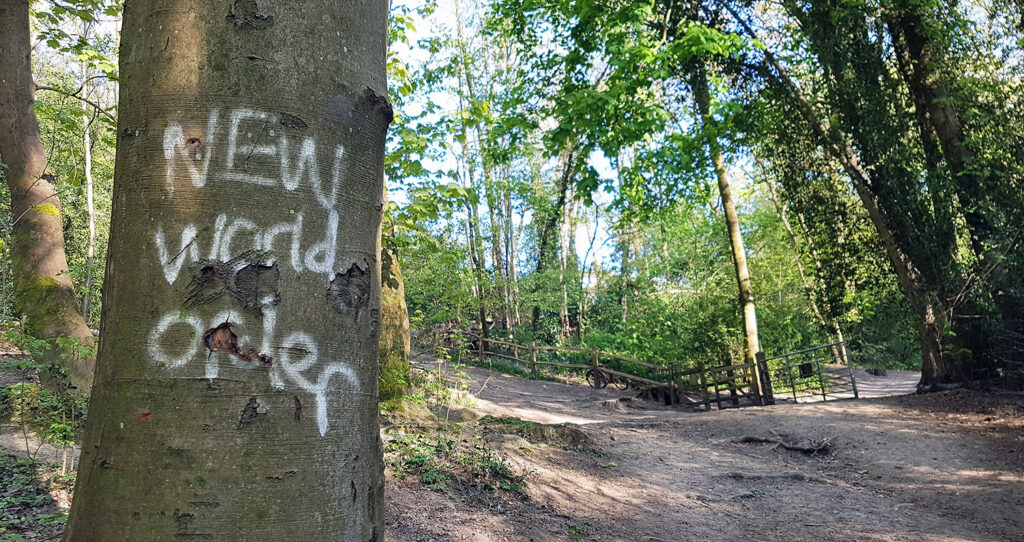 A New World Order?
On a tree, in the woods, someone has graffiti-sprayed the words: "new world order". An act of rebellion maybe? Or simply a recognition and acknowledgement to the planet that a recalibration of a natural order needs to take place. Is taking place.
It takes a pandemic, a pantheistic force even, to admonish us and to put us back in our rightful place in terms of history, time, evolution.
And the result is a renewed respect, wonder for the majestic beauty that exists all around us in the natural world.
I'm witnessing Nature re-asserting and reinstating itself. Nature's natural order is restored again.
An End: A Connectivity
Let's end these reflections at home, in Rusthurst Lane.
At 8 o'clock on Thursday, I clap slightly self-consciously with my neighbours in Rusthurst Lane. A conscious effort to recognise the work of keyworkers, but it goes deeper than that.
Not a polite applause, rather a simultaneous thrumming and whooping and rattling of saucepan lids. A reverberation, pulsing along from street to street. The very lifeblood of a community.
The act of clapping, the noise, the beat, the rhythm is primeval at its core, bonding us in community spirit, and connecting us with our home, with the soil and its layers of evolvement. We are all part of the very essence of this place. Connected. One beating heart.
The cacophony gets louder, and the rhythm unites us.
I am uplifted.
I can breathe again!
Picture: Stephen Lindstedt (USA)
Music: Ben Fisher (England)
Essay: Sarah L. Iles (England)
Sarah reads: Reflections on Locked Down Days
Ben's lyrics for his song:
TIME OF NEED
Spare a thought for the little man
And the old folks need a hand
This was never part of the plan
Barren in this time of need
Local shops, towns and locations
Going down with the drugstore invasions
Empty shelves with no explanation
Barren in this time of need
Is anyone alive out there?
Does anyone even care?
How I miss my maiden fair
Barren in this time of need
Ready the needle and the thread
To put it all back together again
Some will die and some will mend
Barren in this time of need
Even the cat can't bear to look at me
A baby cries when there's not enough feed
Until sense prevails we all will be
Barren in this time of need
They're calling it the great realisation
The truth always ends every conversation
A touch is a curse, a kiss is a weapon
Barren in this time of need
Stephen writes about his picture
"The Great Pause, 2020 (homage William-Adolphe Bouguereau)" (193 x 216 cm, oil on canvas, 2020)
"The Great Pause, 2020" was inspired by the painting "After the Bath" by Bouguereau. Female figures of this stature are the goddesses that reflect our higher nature. The year 2020 forced us into self-isolation and for many a time of deep introspection. Perhaps it was a calling from our higher selves to examine our priorities in life; to become aware of the suffering of others; to examine, as a global community, how we treat others and the planet. The foliage of the rainforest provides an open space where our spirit can run free, unhindered by the confines of time and space and all our self-imposed fears and limitations. Cherry blossoms are a symbolic flower of the spring, a time of renewal. The blossoms peak in about two weeks and then begin to fall—a reminder of the fleeting nature of life.