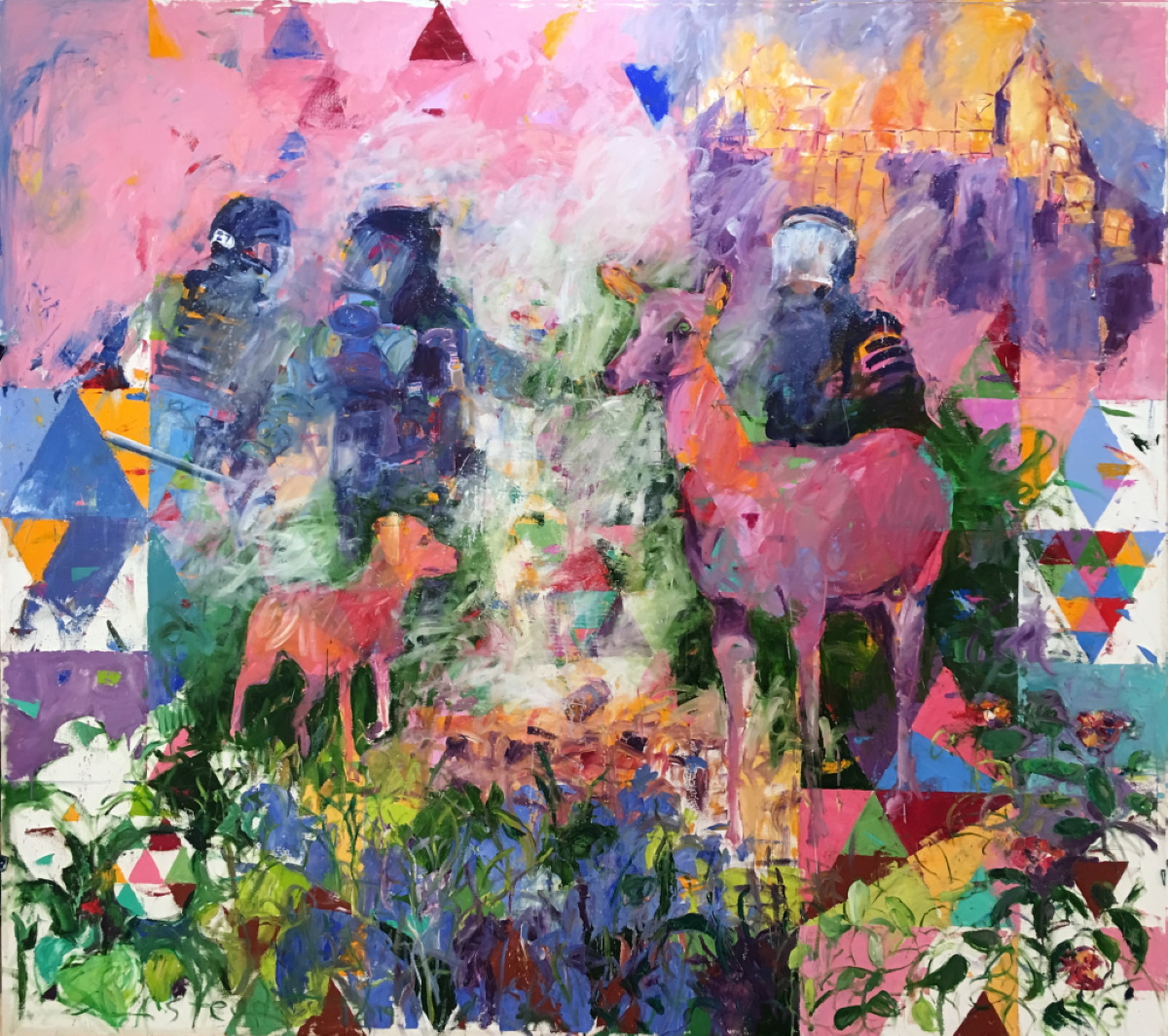 Actaeon; The deer & the Dog

Night and Day (Lockdown Boogie)
"I was Social Distancing before it was Cool Kid"


The world is watching the coronation
with bated breath
Darling you best hold your tongue
While we wait
We'll get educated on lies
The plastic pony's in the parade,
The commissioner won't take interviews,
Turn off the tube,
Go back to sleep my dear,
Nothing is as it should be here but,
All your dreams have forgotten your name.
Crashing crowns, and ponies,
Policies, probabilities, endlessly,
Your squeaky wheels will
Find nothing here.
Turn off the noise
Shut all the doors
Just sleep.

Covid-19 Derby
And they're off to a flying start. Look 'bushfire' has burst into the lead, followed by 'Covid-19' and 'Murder Hornets', The 'last man standing' is soon approaching. And look at that 'Vaccine' is there as well. There's 'Karen' and also 'The 'Manager' and 'Brexit' is there. And look at that, as they come around the corner, coming around very fast. They've got 'Made in China' making progress and also out of nowhere, 'Brain-Eating Amoebas'. I can't believe this as they come around the strait for the last leg. Look at it. Look at it. Yes, yes, yes. 'Karen' has been speaking to 'Brian' and there's a gap. Look at that. 'Karen' clearing the gap as she moves forward. 'Vaccine' is out of the picture. 'Covid-19' is away – Oh 'The 'Manager' has fallen. 'Karen' has spoken to 'The Manager' and look what she's done. She's got the lead and she's crossed the line.
Go!, 'Karen'
Picture: Stephen Linsteadt (USA)
Music: Steve Karn (England)
Poem: Trevor Bernard (England)
Video: John Samaha (Australia)
Stephen writes about his painting
According to the most popular story, Actaeon, a Greek hero figure, accidentally saw the goddess Artemis naked, while she was bathing in the woods. He was spotted by the goddess, who told him not to utter another word or he would be changed into a deer. However, when Actaeon heard his hunting dogs in the distance, he called to them and immediately transformed into a deer. His well-trained dogs found him and tore him to pieces.
In Vedic Astrology, the male dog represents Nirriti, the goddess of Destruction. She brings about new creation and new beginnings. The female deer is Mitra, the god of friendship related to the Divine Friend.
The painting was inspired by recent global outbreaks of social unrest and calls for change. Protesters are creating chaos and a break-down of social structures. The hero, our Collective Conscience or Carl Jung's idea of the World Soul, must battle between protecting the Earth (Artemis, the goddess of the wilderness) and the many fractured pieces of self-interest.



Trevor writes about his poem
This poem is a slice of what I was thinking and feeling when all of this began, before talks of a "new normal". The period when information and misinformation was being exchanged like a ping-pong ball across our screens. A period when I chose to stay home, write, and turn off the TV.



Steve writes about his piece of music
NIGHT and DAY (LOCKDOWN BOOGIE), consciously clubby and up-tempo, was written as a direct reaction to the ongoing lack of opportunity for dancing, partying and general abandon. Yes, it's escapist and that's what I wanted it to be – it doesn't reflect the anxiety of the times during which it was made but rather seeks to create an alternative. No vaccine for sure but perhaps some kind of temporary antidote at least. I had fun making it and it still tops me up with positivity whenever I give it a listen.

One day we will dance together again!



John talks about his 'Covid-19 Derby' video / commentary
In Australia, 2020 started with bushfires and then covid came, and then you hear about hornets that can kill you. Then there's brain-eating amoebas in the water systems in the USA and you just think what else could go wrong this year? That was the inspiration for the race calling. And if we don't laugh about our situation, we're just going to sit and cry and be tremendously miserable, I think. Laughter can really help people.