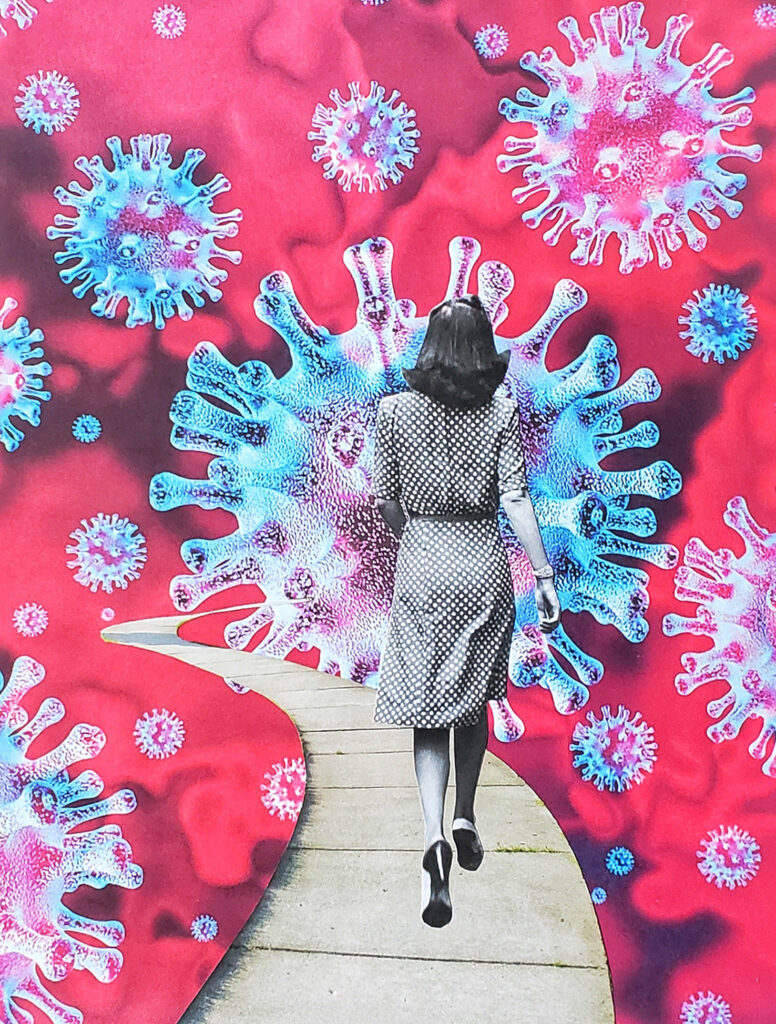 2020
Art of Virus – Movement #2 – Equanimity
A Yellow Dress




I bought a yellow dress today
To combat nagging grief
To brighten up these lonesome days
An instant online relief
The act of retail therapy
Calms upset nerves and pain
Not frivolous expenditure
Nor money down the drain
The yellow dress encapsulates
Spring's gilded golden vibe
Meadows of dazzling buttercups
Under jovial azure skies
Molten butter in a pan
To bake a cake for tea
A slice of lemon in my gin
Beaming up at me


*


It arrives securely packaged
I rip the wrapping off
Through crumpled tissue paper
Gleams fabric silky soft
A gleeful smile begins to form
Lighting up my face
The folded golden frock revealed
Unfurls with cheery grace
A glove-like fit
It's meant to be
The sunshine after rain
This is the tonic that I need
To cheer me up again


*


Endless days of sunlit peace
Lockdown was no chore
The trauma had not hit me yet
Then struck me to the core
The scent of a bird
A compulsive urge
Instinct taking over
A busy road
Cars flashing by
In the fragment of a second
In the blinking of an eye
No prior warning
No chance to say goodbye
Disbelief
How can this be?
It comes out of the blue
Taking with it in its wake
A dog's life in full bloom


*


Cold bleak day
Grave dug out
A final resting place
A social-distanced burial
Harsh raindrops lash my face
Stifled sobs resound on breeze
It's hard to let him go
Reality forcing me to bear
Life cast into deepest shadow
Dark incessant days prevail
In enforced isolation
I stay at home alone distraught
In quiet contemplation


*


The days go flying by apace
Outside the birds keep singing
Gradually I rouse myself
I am reawakening
Ready to emerge once more
Into the summer air
My spirit has returned anew
The dress is hanging there
Soothing rays of sun embrace me
In a warm consoling hug
Radiating through me
Serenity and love
I'll wear my yellow dress today
To bear life's traumas as I must
Feeling galvanised and stronger
With fortitude and trust
Who can know what the future holds?
How we're meant to cope
Sometimes the small things in our life
Can bring happiness and hope
Picture: Susanne Swanson-Bernard (USA)
Music: Lori Bell (USA)
Poem: Sarah L. Iles (England)
Lori writes about her music 'Equanimity'
Try to remain calm during the storm – keeping your center.
Sarah writes about her poem:
This is a poem about loss and bereavement and my experience of it – but not in a Covid-19 sense.
It's about the loss of a family pet.

I am mindful of the fact that many people around the world have experienced, and continue to experience unexpected, profound suffering as a result of the pandemic.

It is not my intention to portray my experience as comparable to those who are undergoing worse tragedies in their lives.

This was an event that occurred during the surreal days of lockdown isolation, but one which could have happened at any time.

Being in this strange, enforced isolation actually shaped and helped the grieving process. As I try to express in the poem, none of us know how our destinies will unfold, or what life will bring. We have to try to cope in the best ways we can, in whatever situation we find ourselves in. This is my attempt to express that.

The poem is an exploration of the stages of grief, how I dealt with it, and emerged on the other side. It's set against the backdrop of lockdown at a time when strict social distancing measures were in place. It forms part of my personal experience of life during the time of Covid-19.



---